All of our chain link fence fabric is available in two knuckle wire styles.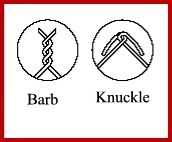 Knuckle-Barb (KB) has a barb at the top and a knuckle at the bottom of the mesh.
Knuckle-Knuckle (KK) has a knuckle on both the top and bottom of the mesh.
With its twist, Knuckle-Barb wire adds security to your fence. However, the edge can be rough and sharp. There are ways around this, such as covering the top with fence cap or sanding down each edge.
Knuckle-Knuckle wire provides a smoother top for your chain link fencing, as no barbs stick out. This style is recommended for areas where fence will be installed around children.